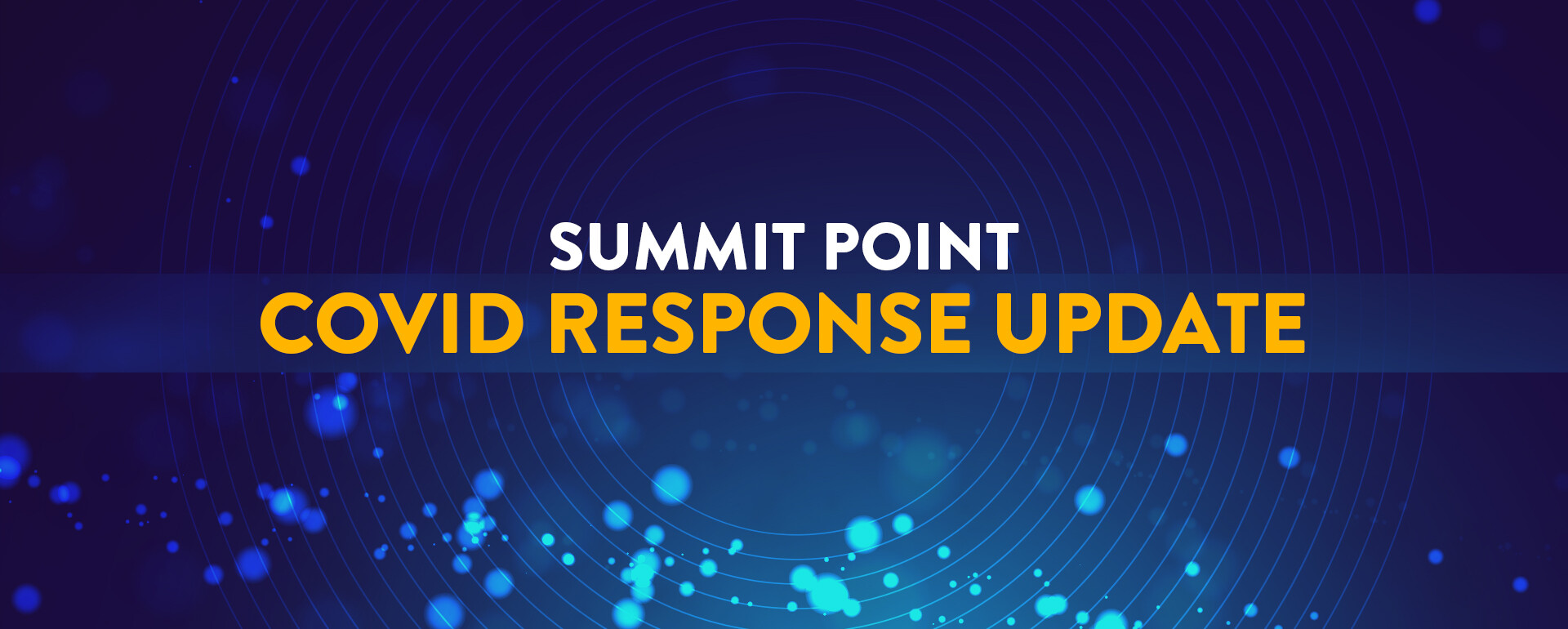 Update - August 31, 2021
These are crazy times, with heart stir abounding. After prayerful and careful consideration, we (the Elders) have decided that Summit Point Church will, at this time, NOT be changing our COVID-19 management approaches for our building or any ministries. We will continue to monitor the situation and may need to change this position over time, but we simply desire to be measured in our response, as the State has made just a guidance to churches (not a mandate). We will maintain "mask optional" guidelines, we will maintain social distancing space at the back of the Worship Center, and we ask each person to wisely consider how you can care for yourself, your family, and all others with whom you come in contact.
That said, we are calling each individual to lift up the banner of love and understanding, loving your neighbor as yourself (Matthew 22:39). Please be respectful of local businesses, as they must navigate difficult waters, and follow their leadership when you choose to enter their establishment. We as a church must check our hearts. We must be passionate that, first and foremost, we genuinely will be concerned for Christ and His kingdom and that we genuinely will be seeking to love others. Be wise. Be gentle. Let's make much of Christ.
Pastor Tim and the Elders of Summit Point Church

UPDATE - MAY 15, 2021


In case you missed it, the CDC and the Governor Of Illinois announced some changes in policy going forward starting immediately. The Governor has named the changes "Bridge mode", and it is meant to get the state closer to full capacity life as normal. In entering Bridge phase, capacities are increased. In addition, a huge announcement was added. All those that have been vaccinated no longer need to wear a mask in any social setting, and they have guided verbally that social distancing may be reduced to 3 foot distances. Individual businesses may choose otherwise, but it would no longer be a CDC or state guidance.
That said, Summit Point will be making changes as well. As of today, we will be making the following changes at the church.
We will no longer be requiring sign-ups for attending church services on Sunday. That is right, just show up ready to worship. No registration is needed! We have opened up space and mobilized enough volunteers to handle max numbers that are well above what we have been currently seeing on a weekly basis.


We will be moving to a mask optional approach due to the narrower social distancing and removal of mask requirements for all those vaccinated. Please be wise, respectful, and responsible. Based on your current situation it may still sometimes make sense to wear a mask.

We will be evaluating other touch based ministries in the upcoming week and deciding when to roll out opportunities like Bookstore, Cafe etc.


UPDATE - NOVEMBER 15, 2020


We as elders have discussed where we are with staff and key leadership. Unfortunately, we now have had a total of 8 staff who tested positive and 13 who are quarantined because of exposure. That takes 2/3 of our staff out, and that does not consider the vast numbers in our body who are sick or quarantined. So we will be extending our pause to include another Sunday (11/22).
To summarize, we will now not be meeting in person for:
Wednesday night ministries on 11/18/20
Sunday in-person ministries 11/22/20 (still Livestream for the Sunday services though!)
We are praying for so many who are sick and/or quarantined. May God protect, provide, and move. Please take care of yourself and your families. We will continue to prayerfully consider how to handle these circumstances wisely. In this season of disappointments, may we continue to worship our King!
UPDATE - NOVEMBER 11, 2020
We wanted to update you on the physical health of our church body. In the past two weeks, we have had many individuals out sick with some variety of illnesses, and some have tested positive for COVID-19. In addition, we then have many families who are in quarantine because of contact with the COVID-19 cases. This has taken a huge toll on our volunteers and has been making ministry a little more challenging these past few weeks. Then, this past week's wave of sicknesses hit. We have had more volunteers need to pull back, and in addition, some of our staff has gotten sick.
At this time, we have four staff people who have tested positive for COVID-19 and some individuals that are then placed on quarantine as well. So, we have decided to take a step back for the next two weeks.
We will not be having the following ministries:
Wednesday night ministries on 11/11/20
Sunday in-person ministries 11/15/20 (still Livestream for the Sunday services though!)
Wednesday night ministries on 11/18/20
That gives us two Wednesdays and one Sunday off of public gatherings to allow for things to calm, for people to get healthy, and for people to be released from quarantine. We will also take that time to clean and disinfect the whole facility.
So, we are taking a step back for a moment. We plan to be back up and running with in-person ministries a week from Sunday. In the meantime, we look forward to joining you online livestream this weekend 11/15/20 at 9am, 11am, or 4:30pm. God bless, stay healthy, and keep worshipping our King!
UPDATE - JUNE 19, 2020
We are excited to be bringing our in-person worship experiences back starting June 28! While there will be some limitations and registration will be required, we have a carefully thought out plan to keep everyone safe as we transition back to in-person services. For those unable to come or not yet ready to gather in a larger group setting, our online services will be continuing at 9:00a, 11:00a, and 4:30p.
For details on the plan, or to register for these in-person services, click HERE.
UPDATE - MAY 30, 2020
As an elder team, we have been waiting this week for clarity from the Illinois Department of Public Health about next steps after the Governor's Executive Order expired at the end of Friday, May 29th. In the end, God provided clarity, at least in the moment. :)
This past Thursday, the Governor stated that the Illinois Department of Public Health was establishing guidelines for the churches in Illinois, not mandates. As long as that remains true, we have some freedom as elders to begin to make plans for re-opening.
So we now have a big job as elders. We long to:
Be measured, careful, and wise
Be respectful of state leadership
Balance "no restrictions" vs. "healthy guidelines"
Be proactive in rallying the church to in-person worship
Our battle cry at the outset of this journey back in March was as follows: "We will OBEY mandate. We will respectfully CONSIDER guidelines." As the IDPH has established "guidelines" for the church, we are rightly considering those as we build our plan. That said, we want to let you know the basic plan we are putting in place. This is to help set your expectations as well as bring prayerful relief as we look forward.
June 1st-27th, 2020
In respecting the state's guidelines on social gatherings during Phase 3, we will continue to meet for online services only during the month of June. The social gathering numbers are so small that it honestly does not help our church size to gather.

We will immediately begin to rally the church to enjoy 10-person or less social gatherings in any way reasonable. This can be enjoyed as a "worship party" on Sundays, as you gather with other friends or family to participate in the recorded Livestream service together. But beyond Sundays, we would also recommend finding social connections throughout the week. In these decisions, please just consider your health situation wisely, and lovingly care for others with your precaution.

We will also begin to

immediately enjoy one-on-one and one-on-several in-person ministries

(counseling, premarital training, etc) in order to enjoy the 10-person or less social gathering limits. The use of

ZOOM

for connecting will still be used

if people are unwilling or unable to join

in person.

Student ministries

will be

respecting the social distancing

numbers of

10 or less

as they work creatively to rally ministry.

Church Offices will be open from 9am - 3pm, with a front desk presence and phones being answered.
Please do respect the social distancing, hand-washing, and even face mask guidelines during this time period.
June 28th - July 31st, 2020 (assuming no setbacks in Illinois metrics)
The end of June marks what should move into Phase 4 of the Governor's Plan. We will have had many weeks of healthy progress as a state, so we will begin to add in-person services to our already available online services.
So, at this time, Sunday, June 28th is our planned first in-person service back. It will be limited in capacity to 35% of our Worship Center (that is 500 people per service). We will initially run three, shorter, 500-person services that will need to be registered for in advance by individuals/families on a first-come first-serve basis. These services will be family friendly, as there will be no children's ministry initially. These services may require temperatures to be taken and social distancing to be followed. We will be tracking with guidelines at that time.
Because we will still not be doing children's ministry, we will have a virtual VBS this year on July 22nd-24th that will include a shirt and crafts for each child to be picked up at the church. It will be a 3-day experience at your house that will bring high energy, lots of worship and fun, and be led by video experience provided by the church.
We are planning to end the VBS 3-day experience with a Compassion Day on Saturday, July 25 that will include rallying backpacks for kids in need as well as serving our broader community. We will take proper precautions, but we will be a light!
As July unfolds, student ministries will be evaluating what makes sense for ongoing ministry.
Church Offices will still be open from 9:00am - 3:00pm, with a front desk presence and phones being answered.
Because the state guidelines for social gatherings is raised to 50 in this Phase, we will ask all Impact Groups to begin to experience and celebrate in-person gatherings again where possible.
Please do respect the social distancing, hand washing, and even face mask guidelines during this time period.
August 2020 (assuming no setbacks in Illinois metrics)
We will maintain the online services and continue to increase the capacities of in-person services during this month of Phase 4.
We will increase capacity to 50% (that is 750 people per service) at the beginning of August.
We plan to be at 75% capacity (that is 1100 people per service) by the launch of the new ministry year in mid-August.
We plan to be at full capacity by September 2020.
As August unfolds, student ministries will be evaluating what makes sense for ongoing ministry.
Church offices will be open 8:30am - 5:00pm, with a front desk presence and phones being answered.
It should be noted that we long to launch a children's ministry, and we will be looking very closely at school guidance as well as daycare guidance to understand better how we may need to safely approach that goal. We hope that we can launch in August or September with children's ministry.
We love you and are excited to gather over the course of this summer. We hold loosely to these plans while we cling to our King. May our God be our one constant in these times of constant change. Let's picture this journey as a crescendo of worship. Growing from family units, to friends, to groups, to large gatherings, to the full church on fire!
May God get all the glory!
In Him,
Pastor Tim
UPDATE - MAY 23, 2020
What unique times we are in! I am elated that we can see some light at the end of the "stay-at-home tunnel." We have had the President make a strong statement of his personal desire to see churches open again. He also stated that "churches are essential." Amen to that! We all know how essential the amazing gathering of the body of Christ is. That said, the President's desire is not automatically a national law. So, now we long to see that meted out. Until next weekend, Illinois allows churches to meet … but only in gatherings of 10.
So, what is Summit Point doing? We still remain under the Governor's Executive Order until this next Saturday, May 30. As far as we can tell, there will be a law by the Illinois Legislature handing reopening responsibilities to the Illinois Department of Public Health. They will provide protocols, procedures, and even capacities that must be followed if a business or church is to open. We are waiting excitedly for those guidances this week. They are currently expected to be delivered by Friday, May 29.
OUR PLAN FOR NOW:
We have launched an online campus over these past weeks, and we will keep it running from now on.
We will be gathering in-person as soon as we can respond to the new rulings.
That said … We will not have in-person gatherings tomorrow (May 24) or next Sunday (May 31).
We will be forming a plan based on the news to be released this week.
We will be letting everyone know what our reopening plan will be when we have nailed that down.
PLEASE BE PRAYING FOR:
Wisdom for state leaders
Wisdom for church elders
Blessing and protection from God as the state opens up
Love you all. So excited to gather together again. Waiting patiently on the Lord in these final times of the "stay-at-home." May God get all the glory!
In Him,
Pastor Tim