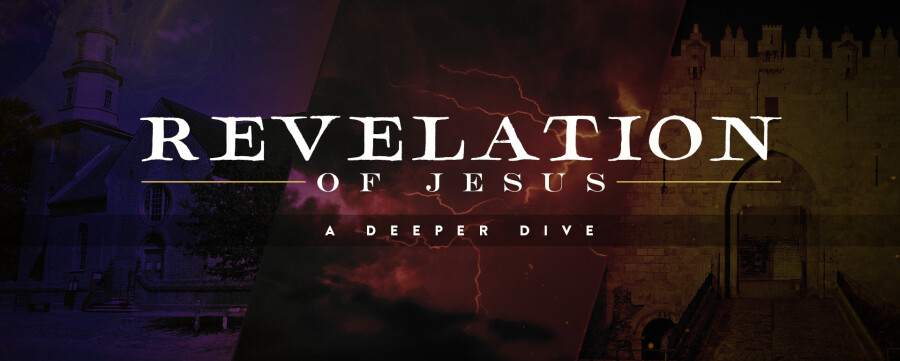 Join us for our 6-Week Study—Revelation of Jesus: A Deeper Dive!


Wednesdays from 6:30pm - 8:00pm // February 22nd - March 29th, 2023

REGISTER BELOW FOR THE STUDY (WHETHER IN-PERSON OR ON DEMAND)


---

Welcome!


We are excited to be diving in and working together to grasp the depth, richness, and worship of studying the End Times through the lens of the Book of Revelation, as well as many other passages in both the Old and New Testaments. So, here's the plan …
First, the key to this class will be attending or watching the sermons on the Book of Revelation. The sermon series is called "The Revelation of Jesus." This study will build upon the sermons, as there is a great deal of context and depth that will be laid out in them.
Watch the Wake-Up Call SermonsWatch the Thunderous Sevens and The Copycat Sermons
Second, the goal of this study, just as for the sermon series, is to ignite our worship, not our worry! May we see the holiness of our God, the salvation He so richly shares, and the essential—albeit severe—nature of His wrath against sin.
Third, this study is organized topically. Each week, as when enjoying the light splashing off of a precious stone, we will spend time looking into just one or two facets (topics) of the truths that Jesus has revealed about the End Times. This deep dive will be rich and awe-inspiring.
So… here we go! Let's dive in and learn what God has shared with us about the end of this age. Remember… "God has a plan!"
In Him,
Pastor Tim


---

Watch A Deeper Dive Online


Unable to join in person? Check back here the day after class for the recordings and to join in our Deeper Dive of the Book of Revelation!