Modeling a Deep Desire for Jesus

The Women's Ministry of Summit Point Church is passionate about coming alongside the women of the church to help build a deeper desire for Jesus. The vision of Summit Point is to build complete disciples primarily through the Sunday morning worship experience and impact groups. Our goal is not to detract from that vision, but to enhance and supplement the purpose of the church.
We want to worship together, to study God's word together, and to face life's issues together.
In order to do that, we provide two opportunities per ministry year to come together as a large group where we worship the Lord through music and God's word. Not only do we worship together at those meetings, but we are intentional about encouraging each other and sharpening one another.

Continuing with that passion, we have study groups twice a year where we study God's word. Each study group includes a teaching time and discussion groups led by a woman who cares for the members of the group through prayer and encouragement. We laugh together, share with each other, comfort one another, and ultimately seek to glorify the Lord side by side.
Our hope and prayer is that, whether involved in the large group time or the study groups, each woman will leave different than she came – closer to the Lord, closer to each other (Romans 15:5-6 ).


UPCOMING AND CURRENT EVENTS
---

WOMEN'S STUDY: UPSIDE DOWN KINGDOM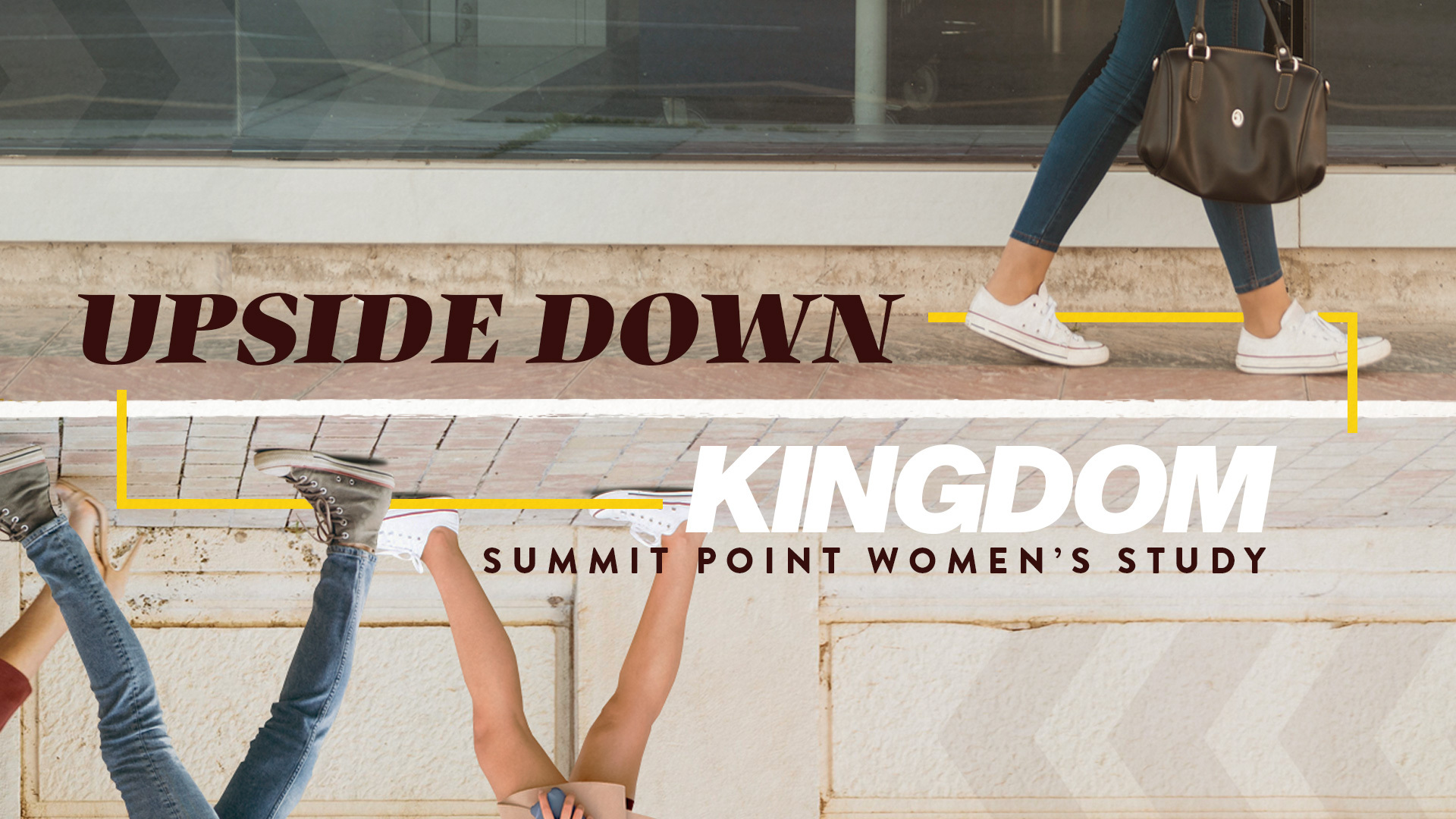 With the Lord, everything seems upside down from what the world teaches. Or is it the world that's upside down? Please join us starting Wednesday, February 10th for this 5-week study where we will dig deep into Romans 12 to see what the Lord wants to turn right side up in our lives. The AM study will be from 9:15-10:45 and includes childcare. PM will be from 6:30-8:00. Both livestream and in person will be available. This study is free. See you there!
REGISTER FOR THE WOMEN'S STUDY
IMMANUEL: A MONTH OF ADVENT AWE
Join us as we celebrate 4 weeks of Advent with our theme—Immanuel: A Month of Advent Awe. Starting the first week of December, you'll receive one video each week celebrating the gifts of Hope, Peace, Joy, and Love through our Lord and Savior, Jesus Christ. Each video will focus on a special theme, and will be accompanied by a scripture as well as some practical ways you can apply each theme to your life.
WEEK 4
Welcome to the final week of Immanuel: A Month of Advent Awe. Our last theme…the theme that 1 Corinthians exalts to the position of "the greatest" theme, LOVE. Not only do we celebrate the gift of God sending His Son into the world because He loved us, but He Himself IS love. It is His very nature to love us without condition. His love is the perfect balance of truth and grace.
After watching the video, please read the following passage and answer the accompanying question:

1. Read John 3:16-17 and Ephesians 3:14-21.
2. The Father gave His Son for us over 2000 years ago, and still today He pours His love into our hearts. How would you use these passages to tell the story of Jesus to a young child? How will you let these truths impact your worship this Christmas?
Practical tips for Application:
Write down all the attributes of love in 1 Corinthians 13:4-8a. On one end of the list, write "God is..." On the other end write, "With/to (your name)." Then speak each attribute of love out loud using God is...with (your name). Ex. "God is patient with __________. God is kind to __________." How does this impact your understanding of God's love for you?
God calls us to have the same love for others that He has for us. Use your same list from 1 Corinthians 13, and at one end, write your name. At the other end, write down someone else's name (a spouse, another relative, a friend), and speak the same list out loud. Ex. "(Your name) is patient with ___________. (Your name) is kind to ________." Is there any attribute of love that you need to ask the Lord for help with in loving someone else?
Show the love of God to another person by listening to them. If possible have a face-to-face conversation, or make a phone call to someone you haven't had the chance to talk to in a while. Ask God to help you really listen without forming your next thoughts or comments. Ask Him to help you hear this person in the way that He does, and to guide your words so that you are able to speak words of love and encouragement.
Father, thank You for Your unwavering, undying love. Thank You that Your love for me is not dependent on my behavior. Please help me to put You at the center of my celebration this Christmas. I can get distracted by the busyness, and sometimes by memories of past Christmases that were painful. But Your love can overcome anything. I want to focus on You and celebrate my sweet Savior this Christmas. May it be so!
WEEK 3
Welcome to week three of Immanuel: A Month of Advent Awe. This week's theme is JOY. We're seeking TRUE JOY - a good feeling deep within our hearts that goes far beyond holiday cheer, finding its source in all that God has done in the past, in what He is doing today, and all He will continue to do through Christ.
After watching the video, please read the following passage and answer the accompanying question:

1. Read Matthew 2:1-12.
2. What are you focusing on that is keeping you from experiencing true joy? How could you shift your perspective to find joy in what God has done for you and will continue to do for you? Psalm 118:24 says - This is the day that the Lord has made; let us rejoice and be glad in it. Prayerfully commit your day - and the days to come - to the Lord. Ask Him to fill you with joy as you anticipate what He will do in your life today and how He will one day restore everything for all eternity.
Practical tips for Application:
Promote joy in your life through worship. Fill your home with some Christmas worship music as you "Sing aloud to God...Shout for joy to the God of Jacob!" (Ps 81:1)

Christmas Offering by Casting Crowns
Light of the World by Lauren Daigle
Joy to the World (Unspeakable Joy) by Chris Tomlin


Promote joy in your home through a new tradition. Rather than focusing on the traditions that you may not be able to participate in this year, use this season to start a new tradition. Perhaps something you have wanted to do in past years, but have been too busy with other activities. Celebrate with joy the new things that God is doing in your life right now.
Promote joy in the lives of others through the unexpected. Do something unexpected for someone else. Ask God to show you who you could bless with a special treat, hand written words of encouragement, a phone call, an act of service. Not only will you bring joy to another person through an unexpected blessing, you will have the joy of anticipation as you plan what you will do.
Father, please strengthen each of us to focus on You as our source of joy. May we rejoice in all you are doing for us each day. And help us to continue looking forward with joy to that coming day when You will renew all things!
WEEK 2
Welcome to week two of Immanuel: A Month of Advent Awe. This week's theme is PEACE. Jesus is our peace. He wants us to experience peace with Him that surpasses all understanding…peace that isn't dependent on our circumstances.
After watching the video, please read the following passage and answer the accompanying question:

1. Read Luke 2:8-20.
2. The angels declared that Jesus the baby was bringing peace into the world. How did all the different people in this passage respond to the news of Jesus? How do you respond to His promise of peace?
Practical tips for Application:
Choose a verse from scripture about peace to meditate on. Find a creative way to display that verse in your home. Some scriptures you might choose are: John 14:27, Romans 5:1-2, and Isaiah 26:3.
Romans 14:19 says, "So then, let us pursue what makes for peace and for mutual upbuilding. Choose a person outside of your family to pray for, maybe even someone you've had a struggle with, or that you know is struggling, and send her an encouraging note.
Take a walk outside

in the quiet.

Pick a time when you can walk outside by yourself for a little while, and just listen. Listen to the wind and the sounds of nature. Imagine being there the night the angels announced Jesus' birth to the shepherds. Talk to the Lord about what you hear and imagine.
Father, thank You for reaching out to every soul. Thank You that You are my PEACE and that you give it willingly. Please help me to see evidences of Your PEACE and grace in the midst of any chaos or busyness, and help me to keep my eyes fixed on You.
WEEK 1
Welcome to the first week of Immanuel: A Month of Advent Awe. This week's theme is HOPE. The HOPE that we have in Jesus Christ is the only firm foundation for our souls to rest in!
After watching the video, please read the following passage and answer the accompanying question:

1. Read Luke 1:26-38.
2. Is your HOPE truly in the Lord this Christmas or is it resting in something else? Ask the Light of the World, Jesus Christ, to reveal any areas where you need to put your confident expectation in His presence and promises instead of hoping in the things of this world.
Practical tips for Application:
Meditate on a passage of scripture that describes the HOPE you have in Jesus Christ. You could meditate on Isaiah 9:2,6-7 from the devotional or you could use other passages like Psalm 130:7 or Jeremiah 29:11.
Start a thankfulness jar. Have your family members write down ways that the Lord has been faithful to you over the past year and place these notes in a jar. Continue to fill the jar over the coming weeks. On Christmas day, open the jar and read through all the ways God has been faithful. When we remember His faithfulness in the past it gives us HOPE for the future.
Keep a candle lit in your home this Christmas season, as a reminder that Jesus Christ is the light of the world and the only true HOPE for your soul. Every time you light the candle, thank the Father for sending Jesus and bringing His light and HOPE into your life.
Father, thank you for sending your Son into this world. Thank you for the HOPE that I have in your presence and promises. Help my HOPE to rest in you throughout this Christmas season and always!
RESOURCES
You can listen and download resources from past studies below: