Fuel & FUSE MEETS WEDNESDAYS 6:30PM - 8:15PM
FUSE ALSO MEETS DURING THE SUNDAY SERVICES AT 9:00AM, 11:00AM, AND 4:30PM


Our Junior High ministry seeks to build on-fire followers of Jesus in 5th-8th graders. Every gathering is powerful, worshipful, age appropriate, and a ton of fun. Come join us as we go after God with all that we have!
---
UPCOMING EVENTS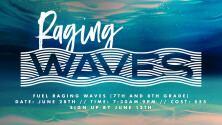 RAGING WAVES - JUNE 28th - Join us for a day of fun in the sun at Raging Waves water park!

This event is for our Fuel students (7th and 8th graders) and will be a great day to just have fun together.
Cost: $55 which includes breakfast, lunch, dinner, water park ticket, transportation, and a Fuel raging waves t-shirt.

It is important that you know that Raging Waves only allows see threw bags in the park. We recommend using a zip lock bag for loose items and bringing a towel and change of clothes folded into the park. Students can also leave their stuff in our vans while we are in the park.

We will be meeting at Summit Point Church, June 28th at 7:30am for check in and loading onto the bus!

We will be back by 9:00pm for pickup. Register here!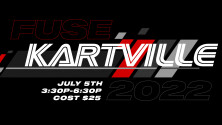 FUSE KARTVILLE - JULY 5th - Join us on our day event where we take our 5th and 6th grade students to Kartville in West Peoria!

Cost: $25
This is an awesome time for building relationships as we race go karts, drive bumper boats, eat pizza, make friends, and have fun.

We will be checking in at Summit Point Church at 3:30pm and loading up into vans.

We will be back by 6:30pm for pickup. Register here!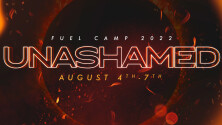 FUEL CAMP 2022 - Aug 4th - 7th - Fuel Camp is an amazing retreat for our 7th and 8th grade students that you do not want to miss! Join us for four days of power worship, time in the Word, and making new friends as we have fun going after Jesus Christ together. Fuel camp is the biggest thing we do as a 7th & 8th grade ministry and we are praying expectantly for God to move in great ways at camp!
Cost $195
Drop off at Summit Point Church Thursday, August 5th at 1:00pm.
Pick up at Summit Point Church Sunday, August 8th at 3:00pm. Register here!
Some Activities Include:
Rock climbing
Slip'n slide kickball
Canoes
Paddle boats
Kayaks
Color wars
Black light dodgeball
Blacklight mini golf
Archery
Bonfires
Night Games
Gym time (racket ball, volleyball, basketball, ping pong, wallyball, 9-square, gagaball)

---
RESOURCES



FUSE: This is our 5th-6th grade group - the younger half of our Junior High ministry.
FUEL: This is our 7th-8th grade group - the older half of our Junior High ministry.