The vision for Summit Point Sixty Plus is a place to connect, care, and pray:
Connect - we gather purposefully, engaging people of God transparently and hopefully. SP60+ is a community group for those in our church family who are in a similar life stage as you. To grow in relationships around a meal as we connect.
Care - a chance to be fed from God's Word as it is brought clearly and practically with a message specific for our 60+ family, followed by an opportunity to discuss the message and its application around your meal tables.
Pray - we believe in praying dependently, approaching the presence of God fervently and expectantly. SP60+ is an opportunity for you to pray for and with others in our group.
UPCOMING EVENTS
---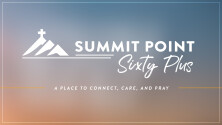 Our next meeting is Thursday, December 21st from 10:00am to 12:00pm! Sign up here!